View all posts
Leading Edge Security and Technology
03/31/2023
By: John Darrow, Chief Information Officer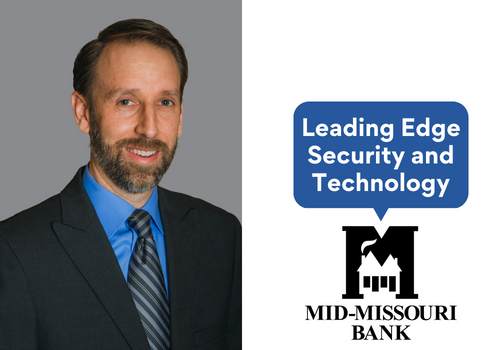 Evolving technology is such a great tool for improving access to banking services and adding convenience to everyday life. Today, tasks like remotely depositing checks, transferring money, and electronically signing documents can be accomplished from just about anywhere, on many different types of devices. As we now rely on all of these technologies for easy access to our information, we also need to stay ahead of changing technology risks that come along with connecting these systems together. Although providing convenient services is a top priority, none is more important than keeping our customer data and networks secure.
Mid-Missouri Bank's focus on implementing and maintaining secure systems is a coordinated effort involving consistent internal practices along with choosing trusted financial technology vendors as partners. We work hard to ensure your information is safe by regularly adding new security layers and utilizing tools such as encryption, multi factor authentication, and anomaly detection to protect our network.
Keeping your information secure is a two-way street. We encourage our customers to remain vigilant by following information security best practices that include using strong passwords, making sure your mobile devices automatically lock, being cautious of emails you weren't expecting, and keeping a close eye on your accounts to report suspicious activity.
We appreciate your business and are glad that you choose to partner with Mid-Missouri Bank as we continue to stay on the leading edge of security and technology while remaining the hometown bank of the Ozarks.
John Darrow, Chief Information Officer